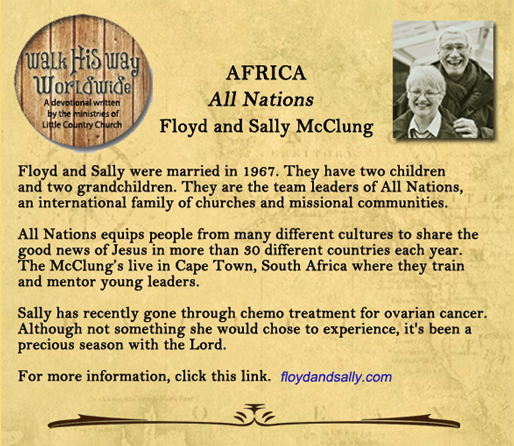 "For you were once darkness, but now you are light in the Lord. Live as children of light (for the fruit of the light consists in all goodness, righteousness and truth)." Ephesians 5:8,9
Legacy of Light
At an All Nations staff meeting, someone shared about A.W. Milne. He was quoting from the book All In by Mark Batterson. I want to share the paragraph he read:
"Around the turn of the 20th century, a group of missionaries became known as 'one-way' missionaries. When they departed for the mission field they packed all of their belongings into a coffin and bought one-way tickets because they knew they'd never return home. A.W. Milne was one of them. He felt called to a tribe of headhunters in the New Hebrides. All the other missionaries to this tribe had been martyred, but Milne found favor. He lived among the tribe for 35 years and never returned home. The tribe buried him and wrote the following words on his tombstone: 'When he came, there was no light. When he left, there was no darkness.'"
What a testimony. What a legacy. I've never thought much about our legacy, until the last couple years. When I faced a number of life and death situations for Floyd, I thought a lot about the legacy he might be leaving. And last year when I almost didn't make it through chemo, I thought about my own life and what I might be leaving behind as my legacy.
I know I want my life to be filled with His light. I want my life to reflect His goodness. I pray for that. We don't have a tribe like A.W. Milne that we've impacted, but I pray that for whatever time we have left on this earth that God will allow us to reflect His beauty, light, and grace.
I usually feel weak and inadequate in doing that. I don't even have the physical strength to "do" much. But I hope I can reflect Him to the lives I do touch.
"Blessed are those who have learned to acclaim You, who walk in the light of Your presence, Lord." Psalm 89:15
"Lord, we're so grateful for the dawning of the light of Your presence within us. Shine brightly through us! In our trials and suffering, may we reflect Your goodness and light in our situations. Would Your presence in us dispel the darkness around us. Let us leave a legacy of light. Amen."