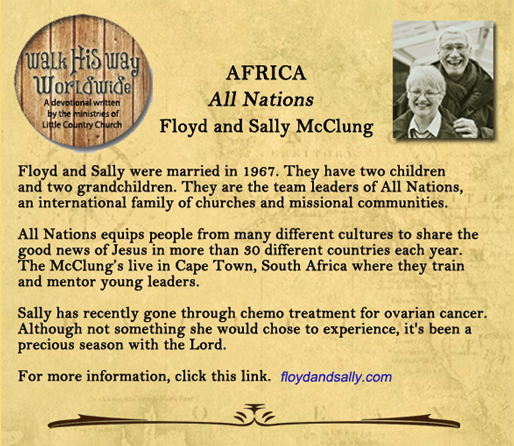 "Have mercy on me, my God, have mercy on me, for in You I take refuge. I will take refuge in the shadow of Your wings until the disaster has passed." Psalm 57:1
The Bees
I love when God speaks to me through His creation, it happens fairly often, and I find it so special. I had a very unusual example of this recently.
My son and I were sitting on my front deck talking. It was a lovely afternoon, and we were enjoying the pretty weather. I looked off down the street and saw a mist/fog/something moving very rapidly towards us. By the time I noticed it, it was in front of my next door neighbor's house—but I didn't know what it was.
I suddenly realized as it got closer and closer that it was a humongous swarm of bees—probably hundreds of thousands of them. Our deck is covered but it's open, so we were vulnerable. It all happened so fast. By the time I had the thought that maybe we needed to run inside the house, they were right in front of us.
Amazingly, they just moved along in front of the covered deck and never came under the roof. In just a matter of seconds, they had passed by and were moving on down the street. I have no idea where they were headed. One of my neighbors seemed to think that they were moving their whole hive from one place to another.
As I sat in somewhat stunned silence at what had just happened—realizing if they had come under the roof that we could have been stung unbearably—I sensed the still, small voice of the Lord speaking into my heart.
"Just as this danger passed right by you without any harm, there are so many times that I have protected you and you weren't aware of it. I'm with you. I'm watching out for you. You are in My safe hands."
There have been a number of "small" things that have happened to me recently that have left me feeling a bit vulnerable. I received this event as a sweet gift to my heart from the Father reminding me of His watch care over me. I wonder how many times He protects us, and we have no idea about it.
"The righteous person may have many troubles, but the Lord delivers him from them all" (Psalm 34:19).
"Keep me safe, my God, for in you I take refuge" (Psalm 16:1).
"The Lord will keep you from all harm—He will watch over your life" (Psalm 121:7).
"Lord, we're so grateful that we are in Your safe hands—the best place to be! Thank You for Your protection. In Jesus' Name, Amen."