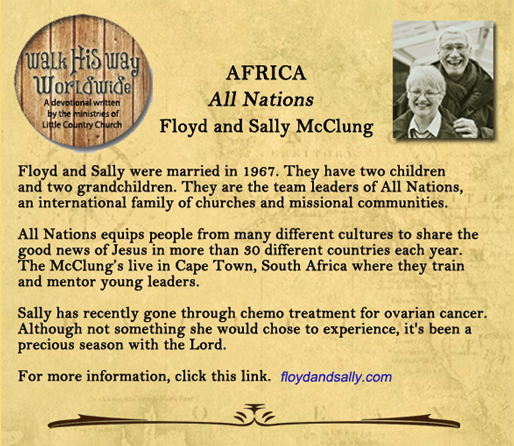 " 'For I know the plans I have for you,' declares the Lord, 'plans to prosper you and not to harm you, plans to give you hope and a future.' " Jeremiah 29:11
Today's Journey
I came home on Saturday (after cancer surgery). It's so nice to be in my own bed. But I'm not sleeping well. I slept great in the hospital (which was probably an answer to prayer), and now I can't sleep at home. Please pray for this to be turned around.
I had to come home with a catheter. It'll be in for another week. Please pray that I don't have any complications or infections. Last time I ended up in the emergency room twice. I am feeling good and gaining strength—I'm very grateful. I can already tell two physical improvements from the surgery, and I'm trusting for more to come.
One of the things I find that I have to guard my heart from is looking at how things were in the previous seasons of my life—or from how things are in the lives of my friends. I am careful to remind myself that this is the journey that God has allowed for my life, and that He has good plans and purposes for it. He is faithful to help me on this journey, and He is continually with me whatever the journey holds.
It's important for me to find contentment for the journey I'm on. Sarah Young says that "learning to be content is both a discipline and an art." I can identify with that. I must choose to look to God and trust Him. I must look for Him in the daily events of my life. And I must look for the hope He has for me in my future, as Jeremiah 29:11 says.
I am grateful this surgery is behind me, and I'm looking to what God has on the path ahead. There is always joy in Him on the journey, no matter how hard the journey might be!
"For the eyes of the Lord range throughout the earth to strengthen those whose hearts are fully committed to Him" (2 Chronicles 16:9).
There are hard things in life at times, but my heart's desire is to stay fully committed to Him—come what may! He gives grace to do that. He is so good, so faithful, so kind and just in all His ways. What a treasure it is to walk with Him. And He does strengthen my heart!
"Father, help us to be fully committed to You in all things, and may we look for You in our individual journeys. Amen."