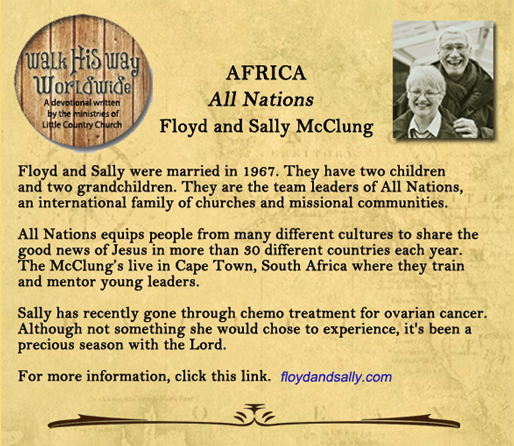 "You will go out in joy and be led forth in peace; the mountains and hills will burst into song before you, and all the trees of the field will clap their hands. Instead of the thorn bush will grow the juniper, and instead of briers the myrtle will grow." Isaiah 55:12,13
Pushing Through
Someone sent me this photo of the beautiful spring tulips pressing their way out of the frozen, snow-covered ground. I love it! I identify with those tulips.
It sometimes feels like I've been walking through a barren, frozen, snow-covered path all these months. Much in our lives feels "suspended" in time. Life is on hold. Things can't move forward. We deal with what's happening, but we're staying in the same place…no movement. One of our family said, "Life moves on all around us, but this life for us doesn't move…at least that which we see with our finite eyes. We're in an emotional and spiritual suspension."
This feeling of suspension is a strange one. Sometimes I look at everyone around me—it seems like life is full and active for them, while I feel like I'm in the same place, never moving.
But in the midst of this, God holds us together. I/we couldn't make it otherwise. I feel like those yellow and red tulips…reaching for the sun, ready to come into the world. They've had the strength to press through the frozen ground and live! That's what I'm trying, choosing to do.
There is no frozen ground, no hardness, no pain, no suffering, no trial that we can't "break through" with His grace, help, and strength! Be it a "little" situation—or an earth-shattering one—God will be with us and help us survive and blossom into fresh life and hope. He created us this way.
I heard someone say that when the dream, the word, the thing we're praying for seems the furthest away, it's the closest to us. We've been praying for breakthroughs, for healing, for change—and I don't know if it's close or far. But the one thing I'm assured of is that God is close to us in the midst of all this. Closer than the air we breathe. I rest in His closeness. And I press through the frozen ground towards the sun!
"Those who hope in me will not be disappointed" (Isaiah 49:23b).
How wonderful that our faithful God is with us in every season, helping us to reach for the sun!
"Father, we take courage from Your Word where we find great and precious promises. Hold us safely in Your hand until we come out of our frozen suspension into fresh life. In Jesus' Name, Amen."