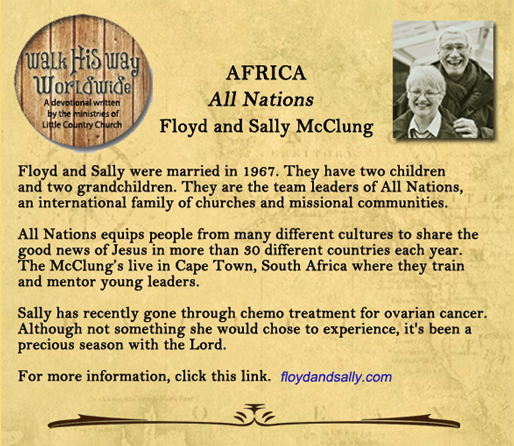 "A word in due season, how good it is." Proverbs 15:23
A Good Word
Recently, the birthday greetings Floyd received made me think about how powerful encouragement is. A simple word of encouragement can make a big difference in someone's life. It can help them keep going rather than give up. It can leave an impact that lasts a lifetime. It can bring hope in the midst of discouragement.
Thinking about this reminded me of something that happened when we lived in Holland. I regularly went to a bank near to where we lived to cash checks of support that people sent us. One of the bank tellers was a difficult lady. She didn't like foreigners—particularly Americans. She was grumpy, and often responded with negative comments. I always hoped that someone else would be working when I went into the bank.
One day I needed to cash a check before I could buy groceries. As I went to the bank, the grumpy lady's window was the only one open, and there was a long line with mostly tourists changing money. She was not happy. I had to get cash that day so there was no choice but to wait. As I stood in the line, I felt the Lord speak something into my heart. "I want you to encourage her." I thought surely I was hearing the Lord wrong, but the thought persisted.
To be honest, I wasn't sure what to say. I couldn't think of anything nice or encouraging to say to her. I could think of a few other things! So I stood in the line and prayed for God to help me. Actually, more like pleaded with Him to help me because I was dreading getting to the front of the line.
As my turn came, I smiled at her and said, "It looks like you're having a rough day. I'm sorry for all of us who come in here and often don't understand the currency exchange. It must make your job more difficult. Thank you for helping us and serving us." She didn't say anything for a few seconds. Then she looked up at me with tears in her eyes and said, "Thank you. I needed that." It was a short, simple verbal exchange. I got my cash, and I left. I had no idea of the impact it had made.
From that day on until we left Holland, every time I went to the bank she opened up her window for just me. We began to talk and get to know one another. We developed a sweet relationship. I was sad to leave her when we left Amsterdam.
"Outdo one another in showing honor" (Romans 12:10).
In the midst of a hard time, pain, suffering, loss—or just the day-to-day hurts that come our way in life—encouragement is a powerful "balm" that God uses to bring strength, help, and comfort to our hearts. We can never know what a few words of encouragement will do in someone's heart. A word of thanks, a caring smile, a warm handshake, a heartfelt expression of appreciation are all things that God can anoint and use in the lives of those around us. Sweet words of encouragement have helped me get through many hard days on our unexpected journey.
A friend once told me the story of a little girl who attended a church that had many stained glass windows. One day someone asked her what a saint was. She replied, "The people the light shines through." You and I can be the people the light shines through with our words of encouragement!
"Father, help us encourage and build others up—even if they scare us a little bit! Amen."