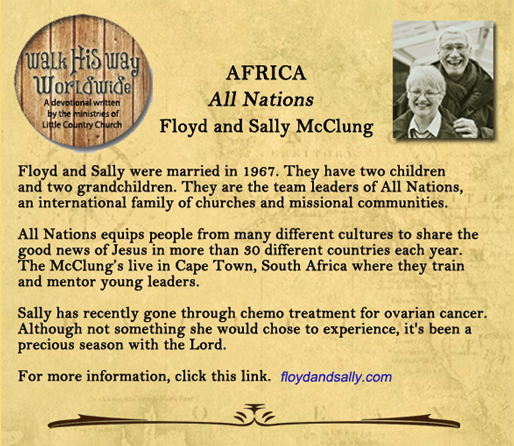 "Here on earth you will have many trials and sorrows." John 16:33b NLT
Prepare For Suffering
One of the things I've seen through the years is that practical things often have spiritual lessons to teach us. I've been thinking about this in regard to the drought we're walking through. It's the worst drought in 100 years in this area. We've lived in dry, arid regions before, but I've never faced a water crisis like this. We are on strict water rationing with rules about what we can and can't use water for. Even though the rains have been coming, we still have the threat of "day zero" (when the taps would be turned off) hanging over us.
It's made me think about how to prepare for times of trial and suffering. I think the Lord warns us in the Word to be ready for hard times. We shouldn't wait until something slams us in the face to get ready. We shouldn't be surprised that hard times will come because we've been warned in the Word about them. So, if they're coming, we need to prepare our hearts for responding to them.
I wonder how many times I've read Luke 9:23 without thinking of what it meant for me personally. "Whoever wants to be My disciple must deny themselves and take up their cross daily and follow Me." I think this is a warning of sorts, an explanation of how we need to prepare spiritually for facing trials and testings… but I don't know that I've always heeded that warning.
There's certainly a spiritual lesson there, too. God has given us tools to use in our lives to prepare us for hard times: worship, spending time in His word, pressing into Him for maturing in our walk with Him, learning His ways, growing in listening to His voice—there are so many disciplines that we can develop to prepare us.
We don't have to do it on our own. He helps us! When I look back over my life, over many years, I can see how God was helping me, preparing me for this season I'm in now. He was helping me be a steward of lessons He brought into my life. I can now see with hindsight how faithful He's been to help me prepare for what I'm walking through.
Even when we're walking through the hardest of days, the darkest of nights—when we don't know if we can survive another day—God wants us to reach out and help one another. It's part of our lives being woven together in His Body. "No man is an island"—even when that island is in a hurricane of suffering and trial.
I believe that God wants us to prepare our hearts for the hard times that may come our way so that we won't blame Him or doubt Him when they come. When we go through the fire, we need to trust Him! It's trusting Him that releases the grace to make it through.
But the enemy will be whispering in our ear that it's God's fault. He'll want us to blame God and withdraw from Him. The biggest temptation I see people face when they hit hard times is to blame God or question His goodness. We can't do that.  We have to tuck ourselves in close to His heart, and receive His strength to weather the storm.
"For our light and momentary troubles are achieving for us an eternal glory that far outweighs them all. So we fix our eyes not on what is seen, but on what is unseen" (2 Corinthians 4:17-18).
Did you notice in this verse that it says hard times will come, but there's always a good thing, a blessing in the suffering. It's part of how God balances things out in our lives. The blessing of this season of suffering for me has been that it has drawn me closer to the Lord than I've ever been. I have had to dig deep into His goodness and faithfulness in order to survive, and there has been an awesome richness of fellowship in doing that.
"God, how good You are!"