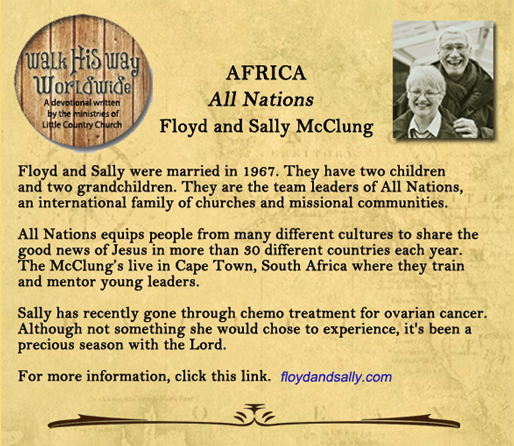 "Don't worry about anything; instead, pray about everything.  Tell God what you need, and thank Him for all He has done.  Then you will experience God's peace." Philippians 4:6,7
Worry Worms
As I've mentioned, I have been learning some fresh things about worrying. Worrying can get us into such a tangled mess! When I was reflecting on worrying, I had the picture come into my mind of a worm. I've never liked worms. They're all wiggly and squishy and dirty!
I think worrying can "worm" its way into our minds. One little thought of worry can dig its way into our thoughts. Before we know it, we have a whole worm farm!
I've found it interesting that when I was so very weak, it was easier not to worry. I didn't have the strength to worry. As strength and energy have returned, it's easier to worry. I have to make it a daily, conscious choice not to worry—because there will always be things to worry about.
I grew up around someone who worried all the time. That person worried about things that never happened. It was a bit consuming! I always said that I never wanted to be like that. And yet those little worms can wiggle their way into my thoughts when I least expect it.
Worry is useless. It doesn't get us anywhere in the situations we are facing, but it can greatly impact us. It can bring stress to our mind and body. Doctors warn that worry can affect us mentally, emotionally, spiritually, and physically.
Worry tends to happen when we take on a job that God didn't intend for us to have. God wants us to cast our burdens on Him, and to let Him direct our paths. Worry can affect our decisions and our judgments. Instead of turning to God and seeking His counsel and wisdom, we can try to work things out on our own.
I've learned, I'm still learning, that when a "worry worm" pops up, I need to turn the worries into prayers. God is always available to listen and help us. Worry simply reflects our lack of faith or our lack of trust in Him to help us.
"Worry weighs a person down" (Proverbs 12:25 NLT).
There are so many verses about not being anxious, not worrying, not being fearful. He is Sovereign. We can trust Him with every burden, every concern, every worry!
I think the response to worry that we need to have is found in this passage from Habakkuk 3:17-18: "Even though the fig trees have no blossoms, and there are no grapes on the vines; even thought the olive crop fails, and the fields lie empty and barren; even though the flocks die in the fields, and the cattle barns are empty, yet I will rejoice in the Lord! I will be joyful in the God of my salvation!"
"Because of Your goodness, we never need to worry. Thank You, Lord!"