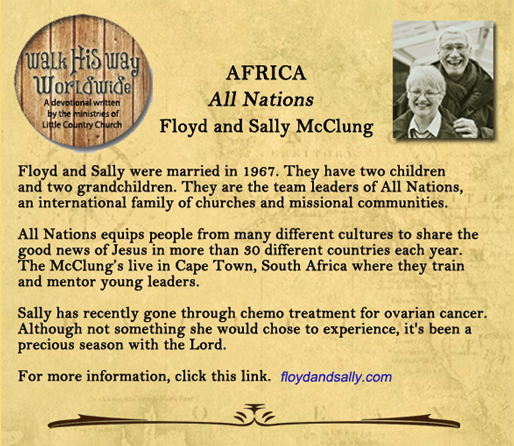 "Look at the birds of the air; they do not sow or reap or store away in barns, and yet your heavenly Father feeds them. Are you not much more valuable than they?" Matthew 6:26
Watching Over Me
We seem to live in some kind of bird paradise. There are so many birds in our area, and so many different kinds. Large ones, small ones and everything in between. Very plain ones and incredibly colorful, beautiful ones. I'm not particularly a bird lover, but you can't help but notice them and be impressed.
One morning I was looking out the window, and on the tree branch were five different kinds of birds. It made me wonder how many kinds we have in our area. I tried to research it, but couldn't get a specific number. But it's lots!
The thought immediately went through my mind that God knows all these birds! He not only created them, but He's aware of them on a daily basis. His creation is valuable to Him.
"What is the price of two sparrows—one copper coin? But not a single sparrow can fall to the ground without your Father knowing it" (Matthew 10:29).
If God is aware of each bird that falls to the ground, then He certainly knows what you and I are facing today! He loves us. He knows every struggle we are dealing with. He knows every hope, dream, pain, sorrow, and decision. He is holding our right hand, and walking with us through each of these things. And He isn't going to let us fall. He'll catch us if we stumble!
As I watch these winged creatures fluttering around, it reminds me of the Father's care for me. The concerns of my heart today for Floyd, for me, for our family, for our future—God is mindful of all of them. He's continuing to help me navigate the maze, and lead me safely through it.
"So don't be afraid; you are more valuable to God than a whole flock of sparrows."  Matthew 10:31
I don't need to worry. I don't need to be heavy hearted. I don't need to agonize over what is ahead. My God is aware of every need, and is actively working on my behalf—just as He is watching over every one of the birds I see flying around.
I grew up listening to a song penned by Civilla D. Martin in 1905. The words are powerful:
     "Why should I feel discouraged, why should the shadows come, why should my heart be lonely and long for Heaven and home, when Jesus is my portion? My constant Friend is He: His eye is on the sparrow, and I know He watches me…
      "'Let not your heart be troubled,' His tender word I hear, and resting on His goodness, I lose my doubts and fears; though by the path He leadeth but one step I may see: His eye is on the sparrow, and I know He watches me….
      "Whenever I am tempted, whenever clouds arise, when songs give place to sighing, when hope within me dies, I draw the closer to Him; from care He sets me free; His eye is on the sparrow, and I know He watches me…"
     "Father, You are watching over me!  What sweet assurance."
P.S.  While I've been meditating the last few days about God's care for the birds, I received a card from a friend in England of a lovely painting of birds in the field. It was a sweet confirmation to my heart of what God was saying to me.  I wanted to share it with you.