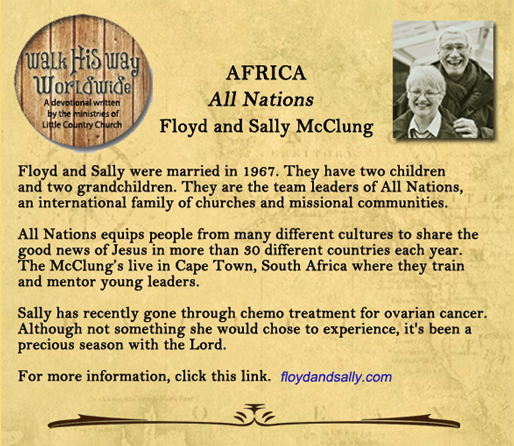 "I consider my life worth nothing to me; my only aim is to finish the race and complete the task the Lord Jesus has given me." Acts 20:24
Finish Well
I imagine that some of you have followed, like I have, the events of the passing of Billy Graham. I have known of his ministry all my life. As a young girl I listened to him on the radio. I watched some of his crusades on TV through the years, and attended one in person. I don't know if any other one person has impacted so many people in our lifetime for the Lord.
His was a life well lived. He was faithful to the calling on his life. And he "finished well." In our early years in ministry when we were in YWAM (Youth With A Mission), we heard teachings about the importance of "it's how you finish that counts." I'll never forget those teachings. They have stuck with me all my life. I often pray, "Lord help me to finish well for You." As I watched Billy Graham's funeral, that was what came through loud and clear—he finished well. And now He's with Jesus!
At the funeral, all five of his children spoke. It was so moving. Each one shared from their family life—all different perspectives, but all warm and personal. For being such a large event, the tone of the funeral was warm, personal, and family-oriented. His son, Ned, said that his dad was FAT: faithful, available, teachable. What an awesome tribute!
One of the songs sung at the funeral was Because He Lives. I love that song—I've actually sung it in my quiet times during this long unexpected journey we're on. "Because He lives, I can face tomorrow! Because He lives, all fear is gone… and I know He holds the future… life is worth the living just because He lives." When I was a teenager, I sang with a girls' trio in my church. We sang that song. It meant a lot to me then too. I'm so grateful He lives!!
I have no idea what is ahead in our lives. I long ago gave up trying to figure out what this unexpected journey is about. I'm just trying to faithfully walk it through. And, whatever is ahead, I pray continually that I may "finish well." I guess that's the longing of all our hearts.
"I press on to reach the end of the race and receive the heavenly prize for which God, through Christ Jesus, is calling us" (Philippians 3:14).
"Better is the end of a thing than its beginning, and the patient in spirit is better than the proud in spirit" (Ecclesiastes 7:8).
My prayer for each of us is that we will finish well! Someday we'll bow before Him in heaven. I hope He can say, "Well done, good and faithful servant!"
 "Father, by Your Spirit and grace, we will finish well. Strengthen us, Lord. Amen."