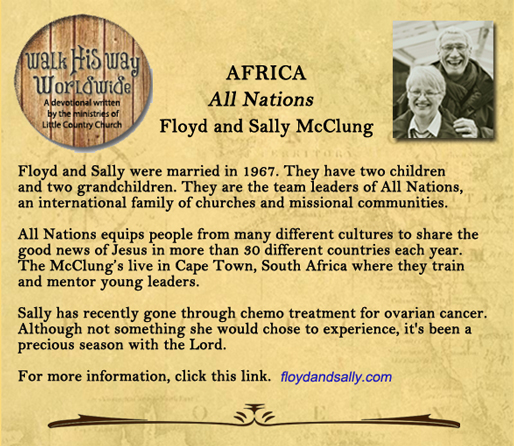 "These things I have spoken to you, so that in Me you may have peace.  In the world you have tribulation, but take courage; I have overcome the world." John 16:33
Dread
I must soon make decisions about further cancer treatment. As I've gathered information and begun to think and pray about this—I've found a huge sense of dread hanging over me. I don't look forward to more treatment! I've been through so much already these last few years.
I have to say that for a few days I felt like a huge cloud was hanging over me, and an immense weight was resting on my shoulders. I kept praying about it, but I couldn't seem to dispel this heaviness. A sweet friend was praying with me, and she said something that was a light bulb moment for me. She mentioned that Jesus wasn't looking forward to going to the cross. He prayed and asked the Father to remove the burden from Him. I immediately looked up the passage from Matthew 26:36-44.
"Then Jesus went with them to a place called Gethsemane, and He said to His disciples, 'Sit here, while I go over there and pray.' And taking with Him Peter and the two sons of Zebedee, He began to be sorrowful and troubled. Then He said to them, 'My soul is very sorrowful, even to death; remain here, and watch with me.' And going a little farther He fell on His face and prayed, saying, 'My Father, if it be possible, let this cup pass from Me; nevertheless, not as I will, but as You will." And He came to the disciples and found them sleeping. And He said to Peter, 'So, could you not watch with me one hour? Watch and pray that you may not enter into temptation. The spirit indeed is willing, but the flesh is weak.' Again, for the second time, He went away and prayed, 'My Father, if this cannot pass unless I drink it, Your will be done.' And again He came and found them sleeping, for their eyes were heavy. So, leaving them again, He went away and prayed for the third time, saying the same words again."
This passage brought such comfort to my heart. I realized that Jesus understands my sense of dread. He had faced it, too—although for something much, much greater. But the thing that impacted me is that Jesus faced this. He knew the answer was to give His burden, His dread to the Father. He knew the Father would help Him.
So, following His example, I've been giving my feeling of dread to the Lord. I've been truly "casting my burden" on the Lord. Little by little, the heaviness is lifting. I'm not sure yet what is ahead, but I am trusting for the Lord to help me. Please pray for wisdom and direction as I walk through this process.
 "Father, we trust You to help us in our journey. Help us face what comes. In Jesus' Name, Amen."