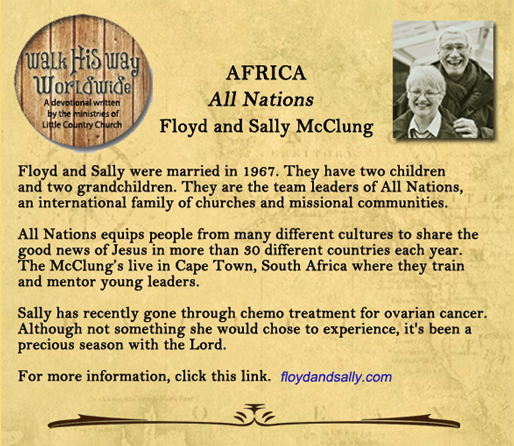 "There is surely a future hope for you, and your hope will not be cut off." Proverbs 23:18
Holding God's Hand
As we enter the new year, I find myself a little "double minded." On the one hand, I am so, so grateful for God's goodness, grace, and strength this last year. He has been so very faithful, on many levels. I truly couldn't have made it without Him!
And on the other hand, I walk into the time ahead knowing I have big decisions to make, and wondering what the future holds. I can't say that I'm fearful, but I guess I'm very "concerned." I'm so aware that I need much wisdom and direction. I'm truly walking into a huge unknown.
I was listening to the song "In the Eye of the Storm."* Some of the words are, "In the eye of the storm…You alone are the anchor when my sails are torn." As I listened, I had the picture flash into my mind of a sailboat in the middle of a storm with torn sails. It was being tossed back and forth in the wind and waves. And then I saw God's hand reaching down—sewing, mending the sails. The boat stayed afloat and sailed out of the storm.
This visual in my mind's eye brought comfort to my heart. I guess it's what I'm asking God to do—to mend my torn sails and help me stay afloat! I so need His "mending."
Someone sent me a quote from King George VI that he shared in his Christmas message in 1939. "I said to the man who stood at the Gate of the Year, 'Give me a light, that I may tread safely into the unknown.' And he replied, 'Go out into the darkness, and put your hand into the hand of God. That shall be to you better than light, and safer than a known way.'"
I'm choosing at the beginning of this new year to keep my hand tucked safely into the hand of God. It's the only place of security that I know of.
God's Word encourages my heart as I walk into all the unknowns of the year ahead. I'm clinging to His hand, trusting Him to mend my torn sails. I know He's faithful! I'm counting on that.
"Father, give our sister—and all of us who are struggling to stay afloat—strength for the journey. In Jesus' Name, Amen."
*Bryan Fowler | Ryan Dale Stevenson, © Songs Of Emack (Admin. by Brentwood-Benson Music Publishing, Inc., Universal Music – Brentwood Benson Publishing (Admin. by Brentwood-Benson Music Publishing, Inc.), Capitol CMG Genesis (Admin. by Capitol CMG Publishing), TrueMuse (Admin. by Capitol CMG Publishing)