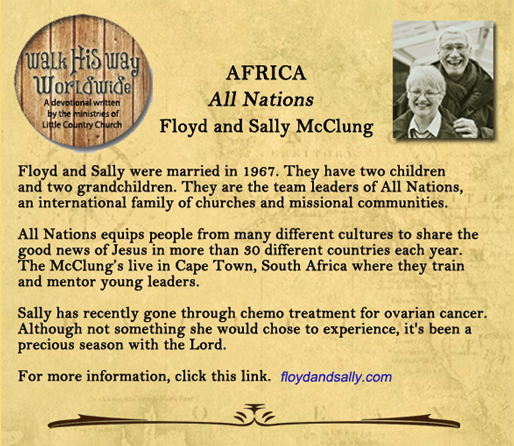 "When anxiety was great within me, your consolation brought me joy." Psalm 94:19
Close to the Springs of Joy
When we go through hard times, the "storms" of life, one of the first things to disappear can often be our joy. It seems to get sucked up in the storm, much like a tornado sucks up everything in its path.
I've been in the midst of a number of storms all at once recently, and I've been thinking that I don't want to lose my joy! One of the storms involves physical pain. Physical pain can especially rob us of joy because so much of our energy goes into battling the pain. I've been reflecting each day on maintaining my joy in these stormy times.
One of the things I realized is that joy is a choice. The Bible says, "The joy of the Lord is your strength" (Nehemiah 8:10). But to receive that joy from Him, we have to choose to turn to Him, to stay tucked in close to Him. He doesn't force Himself on us. We must choose to draw close to Him in order to receive the joy that brings strength.
Staying close to the Lord in the midst of the storm keeps us close to His springs of joy. Those springs are unlimited, and they flow freely from His loving hand and His throne of grace. He longs to baptize us in His joy—especially during stormy times.
I remember when I was 15 years old. I was in the hospital with a serious illness. It was also at an important juncture in my walk with the Lord. I cried out to the Lord while laying in that hospital bed, and had the most wonderful experience. I felt the Lord say He wanted me to experience His joy. He wanted me to know what was in store for me in walking with Him. I could almost physically feel a fountain of joy being turned on inside of me. Joy bubbled up uncontrollably.
I started to giggle and laugh because my heart was so overwhelmed with His joy. At the same time I felt His love, His closeness, His peace. All the things I was worried about just evaporated in the midst of His abundant joy. I felt cocooned in a bubble of His joy. It was the most awesome experience. And the next morning the doctors came in and said they couldn't find any trace of the illness. They released me and sent me home.
Many times through the years when I've been in "storms," I've remembered that joy! I don't want to miss out on it. His wonderful, abundant, incredible joy is independent of the circumstances in our lives. We need to wait in His presence and ask Him to fill us with His joy! I've been doing that in the midst of my present storms, and His joy has been flowing into my heart.
"Thank You, Lord, for Your joy!"