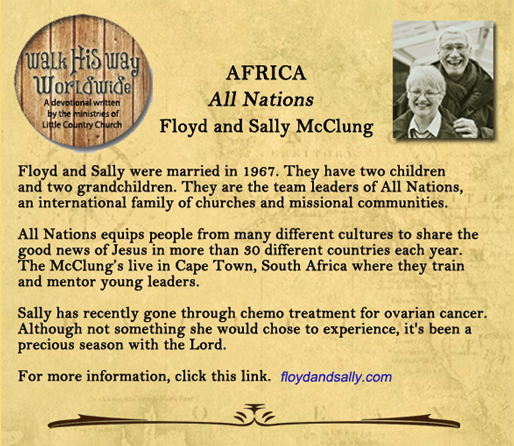 "No temptation has overtaken you except what is common to mankind. And God is faithful; He will not let you be tempted beyond what you can bear. But when you are tempted, He will also provide a way out so that you can endure it." 1 Corinthians 10:13
The Way Out
In our walk with God, He grows us—He teaches us—He helps us gain some maturity. But we can never get away from our roots that we are sinners, and we're saved by His grace. Without that, all the rest is nothing.
I'm so very grateful for His saving grace. Thank You, Lord Jesus, for dying to take away our sins. And I'm so grateful that His grace continues to help us in the trials of life. He is right with us in every hard situation. He helps us navigate the storms as we whisper His name and ask for help. But sometimes we may not recognize His help!
We have a passageway in between our house and our garage. (The garage is actually Floyd's office.) There are doors at each end of the passageway. During the day they're open, but as evening comes, I close them for security. A few days ago when I closed them, a bird was unknowingly trapped inside.
Our dog, Sossy, sleeps in the passageway at night. When I went to put her out there at bedtime, I found the bird fluttering around, flying all over, squawking, very upset. I quickly opened both doors so it could get out. But it was in such a dither that it just kept flying around inside. Finally, after a few minutes, it flew out the door.
I stood there and smiled. I thought to myself: I'm probably like that bird at times. I get in a "dither" about some situation. I fly all around, squawking. God, in His love and faithfulness, opens a door of escape/answer for me, but I don't even notice it.  I had a good time of prayer as I went to bed that night, thanking Him that in whatever situation I find myself in, He always has answers! I need to keep my eyes open for them. I can trust Him for His provision in every situation in my life.
 "The righteous cry out, and the Lord hears them; He delivers them from all their troubles. The Lord is close to the brokenhearted and saves those who are crushed in spirit" (Psalm 34:17-18).
"Lord, thank You for providing the way of escape in all our trials. How loving and faithful You are!"