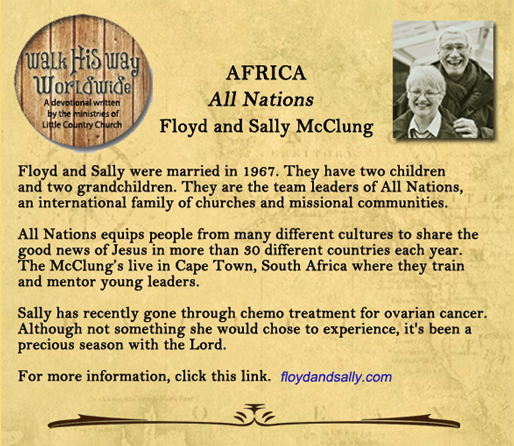 "If my people, who are called by my name, shall humble themselves, pray and seek my face and turn from their wicked ways, then I will hear from heaven, and will heal their land." 2 Chronicles 7:14
Gang "Warfare"
When I'm praying for things—especially over a long period of time—I imagine you are like me. It really helps build my faith to hear answers to prayers! We know God hears, but just finding out about a few answers really helps motivate me to keep pressing in.
A couple months ago I asked you to join with us in the call to prayer for Cape Town—"It's Time"—that was led by Angus Buchan. I shared a few of the amazing things that happened on that day. Now I have some follow up testimonies to share. They have blessed my heart! I can't wait to share them with Floyd. He is going to be very excited.  In fact, I'm sure he'll have tears.
One of the prayers was for rain for Cape Town. That's still an ongoing prayer! But in April we had a "normal" year's amount of rain. That is amazing as the last few years April has been dry. And we've already started off with several rainy days in May. May is usually a dry month. The dams that hold our drinking water are still very low, but this rain is making a difference. God is answering prayer!
Angus shared a report that happened right after the day of prayer. One of the major gangs went to a church. The Spirit of the Lord moved on them, and they came forward during the service. They laid their guns on the altar, started to weep, and repented.
Someone heard about it, and sent word to the opposing gang. They reported that the gang at the church was now unarmed and vulnerable. The second gang came to the church with the idea of shooting them all. I'm sure many innocent bystanders would have been killed, too.
The second gang walked into the church, and the same thing happened. The Spirit of the Lord moved on them. They walked to the front, laid their guns on the altar, started to weep, and repented. Then the two gangs embraced each other. It was a modern day "book of Acts" miracle! Thank you, Jesus, for your saving grace. One of the gang leaders now wants to go to Bible college.
Tomorrow I will share another miraculous event that took place.
"Father, we are conscious of Your miraculous dealings with mankind. Thank You for letting us partner with You by praying for seemingly impossible outcomes. In Jesus' Name. Amen."