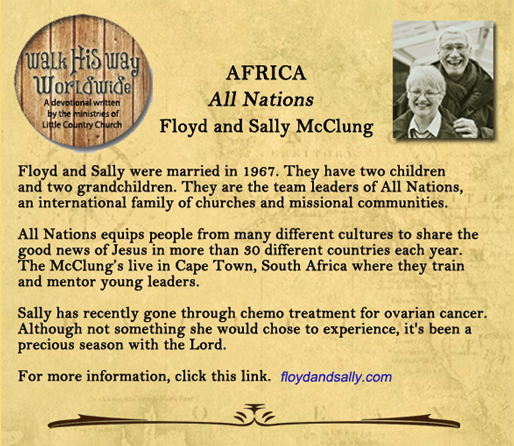 "Be joyful in hope, patient in affliction, faithful in prayer."  Romans 12:12
Patient Love
I was reading in my quiet time in 1 Corinthians 13 and the phrase "love is patient" just jumped out at me. I know when we think of love being patient, we usually think of being patient with people—especially those who might tend to frustrate us! We probably all have some of those around us.
But a completely different thought came into my mind. I love God with my whole heart—so maybe part of that love is being patient with the things that have come into my life—the things that have been filtered through His loving hands as He "works for good in all things for those who love Him"  (Romans 8:28).
I have certainly tried to be patient with all the things that have come into our lives on this unexpected journey. But there are days when I'm weary, when I'm tired of this journey, when I want it to be done. As I read this passage, I felt that gentle nudge of the Spirit reminding me to be "patient" with this journey out of my love for Him and trust in Him. I don't know what's still ahead, but I know God would have good in mind for us through it.
One devotional I read said that patient love is "the ability to endure adversity calmly." I want my heart to be at peace, to be calm as I continue on this journey. The passage in 1 Corinthians 13 goes on to say that love "always trusts, always hopes, always perseveres." That's what I want, what I'm choosing to do.
God has been so faithful, so good—I know He'll keep carrying me as the journey continues.
"Better a patient person than a warrior, one with self-control than one who takes a city" (Proverbs 16:32).
"And now these three remain: faith, hope, and love. But the greatest of these is love" (1 Corinthians 13:13).
I'm endeavoring to have patient love on this journey!
"Father, You have shown us that love is patient. May our love for You cause us to be patient in all our trials, knowing that You oversee all that happens to us. In Jesus' name, Amen."